Salvatore tannin therapy shampoo restructuring 300 ml
Step 1 - Body, strength and resistance. Organic shampoo for damaged hair.
Restructuring Salvatore daily use - damaged hair: contains in its formula, nanoparticles that are able to promote deep cleansing without adding or dilating the hair fiber initiating the hair recovery process.
Use: With wet hair apply the product by gently massaging. Rinse with plenty of water until the product is completely removed.
Reviews about this product

Show attestation
Le va fenomenal a mi pelo, conserva estupendamente la tanino para que dure más tiempo

Lo he usado antes y perfecto

Junto con la mascarilla me ha ayudado muchísimo a reparar el daño que otros productos habían causado en mi cabello

Deja el pelo suave y alarga la dirección del tratamiento

Muy bueno, se nota muchísimo el cambio en el pelo.
You might also like
Salvatore therpay T.T. Protein serum 120ml tannin. Reduces...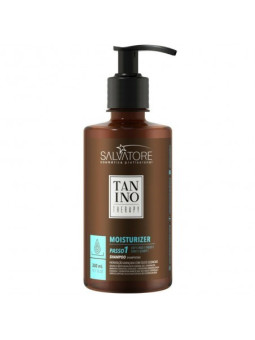 Step 1 - Advanced hydration with essential oils. Deep...
Step 2 - Regenerate and strengthen the hair fiber. Body,...
No customer reviews for the moment.